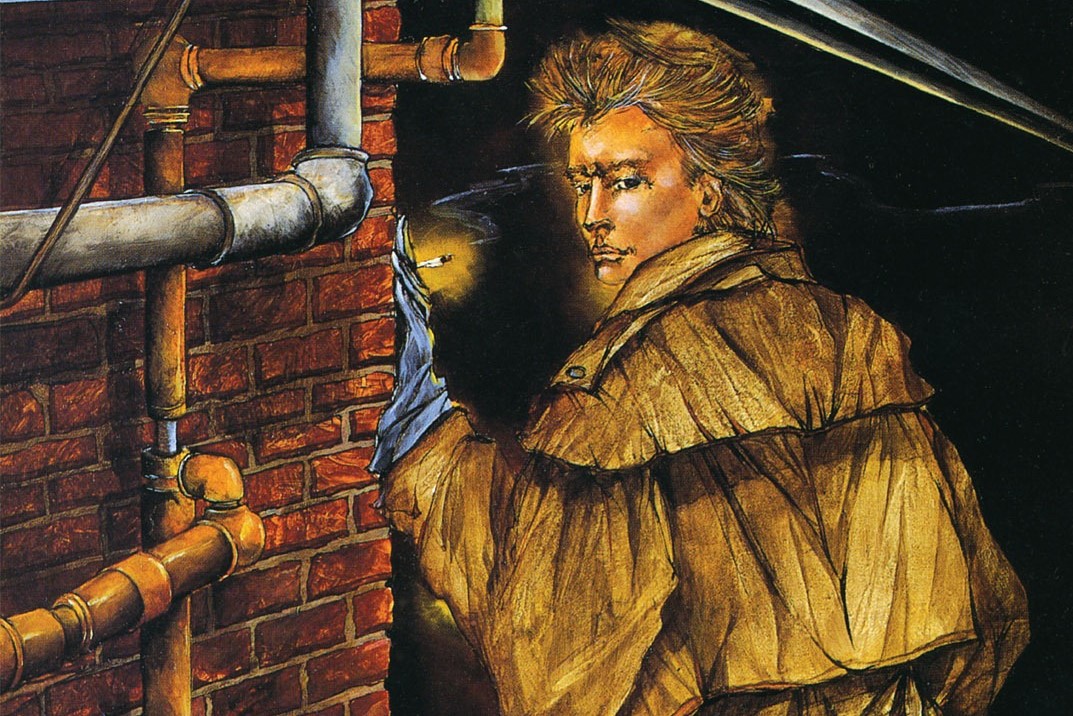 What harrowing adventure could drag Constantine out of semi-retirement? Well, he waxes misanthropic at a laundromat. Plus: Job Interview with the Vampire!
Show Notes
2:13 – Fletch Lives is a 1989 crime comedy film starring Chevy Chase, the second film based on the character by novelist Gregory McDonald.
2:17 – Victor "Victorious" Mancha is a member of the Runaways, a cyborg created by Ultron, good for the moment, but with buried programming that will someday cause him to slaughter most of the X-Men and Avengers.
3:30 – "A Hard Day's Night" is a song by the Beatles from their third record, which is also the soundtrack to their film A Hard Day's Night.
4:05 – Sean is making a cheeky reference to John puking up his lungs in his bathroom during the Dangerous Habits storyline.
4:28 – Hampstead Heath has a long history in fiction. Perhaps most relevantly, it is the site where the vampiric Lucy Westenra stalks her victims in Bram Stoker's classic novel Dracula.
5:28 – Actually, it was Sandman #56.
6:47 – The Xavier Files was an X-Men book for children featuring biographies of several X-characters. It's also the name of a fantastic X-Men fansite.
7:37 – "Dragula" is a song by Rob Zombie from his first solo record, 1998's Hellbilly Deluxe. It also appears in The Matrix and Twisted Metal 4.
8:14 – The Castlevania cartoon, which is not properly called an anime, is really fucking good and you should watch it.
8:26 – Ultraviolet was actually on Channel 4.
11:40 – Malcolm McLaren was a record industry legend, best known as the manager of the Sex Pistols. Behold, McLaren (right) with Johnny Rotten: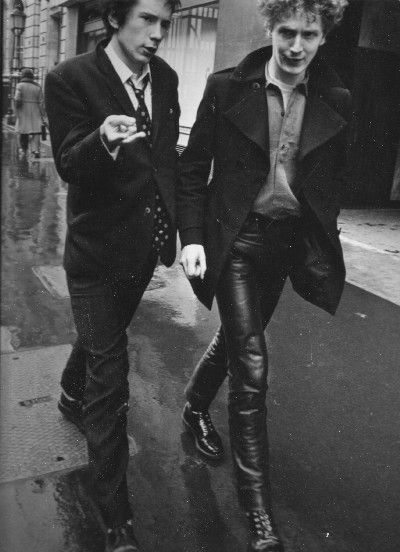 13:14 – Kev doesn't actually use the term here, which John coined (referring to himself, Doctor Occult, the Phantom Stranger, and other similarly clad mystical detectives) in a 1990 issue of The Books of Magic.
13:33 – This is the infamous Newcastle incident, which was finally revealed in Hellblazer #11.
17:55 – The "mad old bastard killing kids" John's thinking of is probably the Family Man, who haunted the pages of Hellblazer from issue 24 to 30.
18:14 – Ravenscar was the psychiatric hospital John was committed to after Newcastle.
20:13 – My mistake, "King of Pain" is not a Sting solo song, but a song by The Police from Synchronicity.
22:51 – According to H.P. Lovecraft, a shoggoth is basically a giant amoeba with many eyes, so kind of fish-like. What do you say we prove this is a horror podcast and include an image?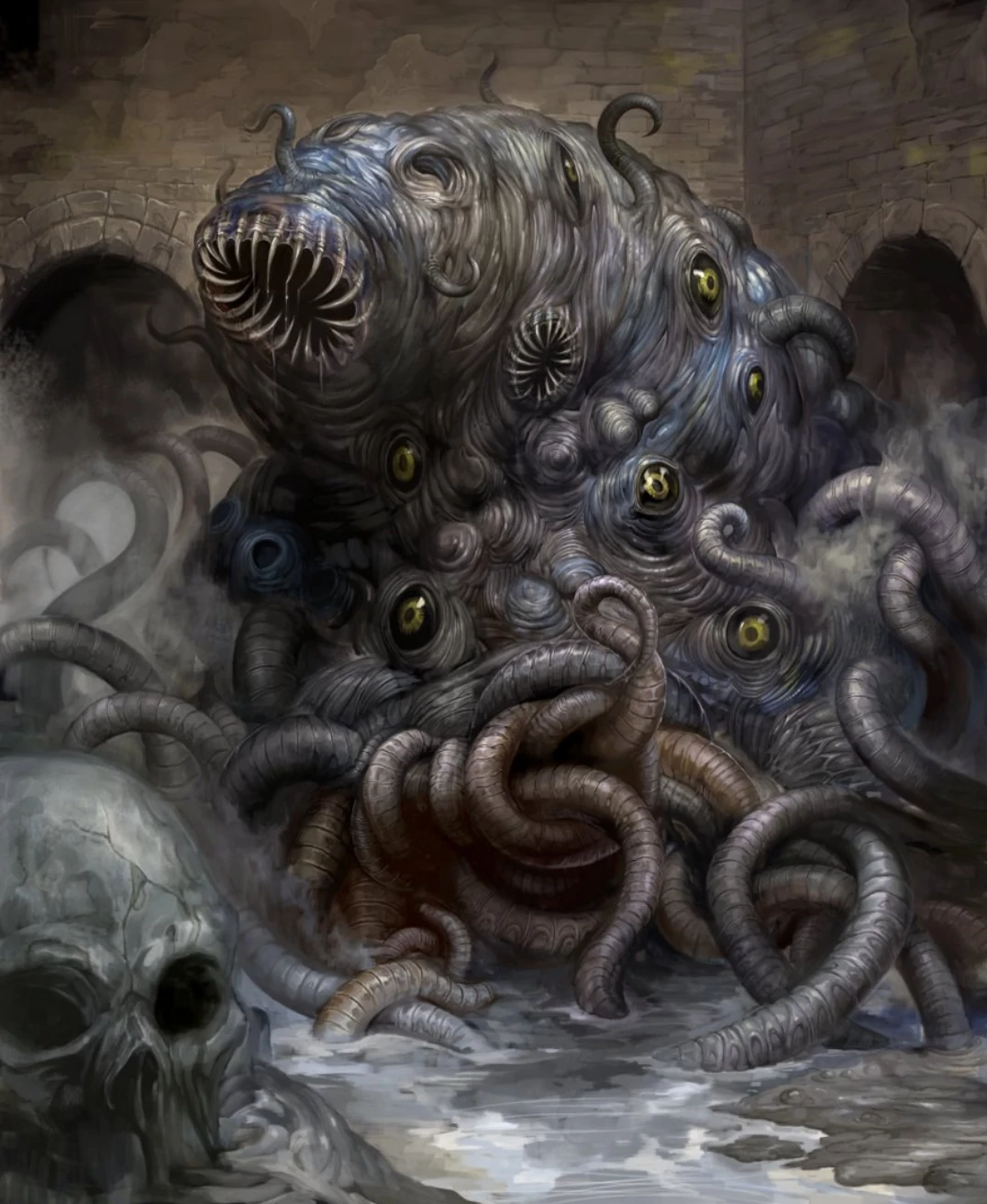 23:32 – We forgot to mention that the King of the Vampires has a bitchin' jacket. Some sources report that he's supposed to bear a shocking resemblance to James Dean.
38:06 – If it's not clear in the audio, this is well before cellphones became commonplace, and the young black man is talking on the laundromat's payphone.
44:26 – This might be a reference to Grant Morrison's occultist character from Doom Patrol, Willoughby Kipling. His role was originally intended to be filled by John himself, but DC had a policy keeping Vertigo characters from appearing in the main line.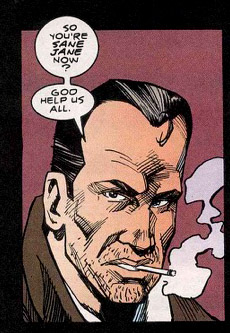 44:44 – I'm doing a bad Arnold impersonation and quoting from Terminator 2: Judgment Day here.
45:25 – Ayumu "Osaka" Kasuga is an often clueless, sometimes deeply profound character from the manga and anime Azumanga Daioh.
47:57 – That's a line from the song "Panic," which was released as a standalone single by The Smiths in 1986.
50:48 – That's a reference to Diablo II.
51:54 – Coincidentally or not, this incident invokes the first story arc of the series. John's old friend Gary Lester showed up with a demon on his tail. The demon got free and the only way to save New York was to trap it inside Gary and let it devour him. An obviously agonized John stayed with Gary until the demon "unraveled him" (or at least until he passed out drunk) that time, which may contribute to his unwillingness to do so now.
56:34 – Defenders of this issue tend to point to it as a strong example of the horror of the mundane. They also, unfortunately, tend to invoke the insufferable notion that comic books that don't make sense are smarter than comic books that do.
Podcast: Play in new window | Download
Subscribe: RSS