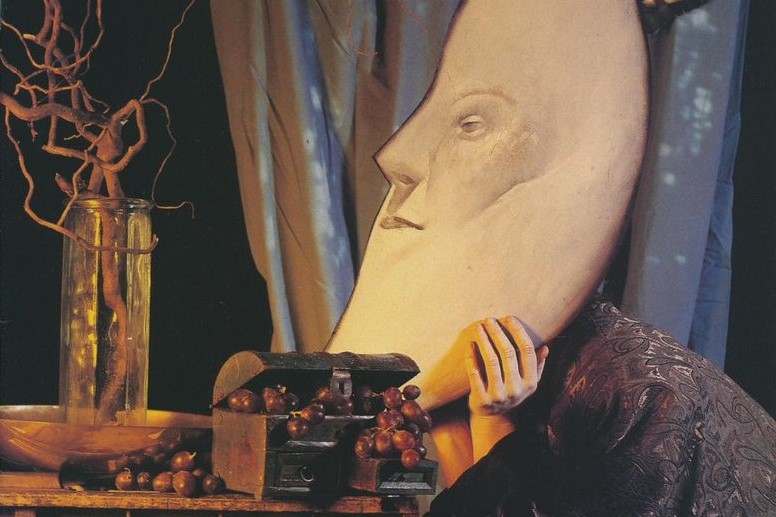 Welcome to a podcast Convergence! This week we're joined by Joanna and Ryan of What's Lightsabers, Precious along with other bizarre and implausible guest stars as we recap three terrifically told tales in Sandman #38-40!
Show Notes
2:19 – That was an oblique reference to "Closing Time," a story from Neil Gaiman's Fragile Things collection.
3:28 – The dreadful and mysterious creatures known as "claw shrimp" originate from this Penny Arcade strip.
3:55 – Gaiman's first short story, "Featherquest," was published in Imagine Magazine in 1984, five years before he escaped from Roderick Burgess' crystal cell. His comics work kicked off with a handful of 2000 AD stories in 1986.
7:32 – "The Colour Out of Space" is a 1927 story by H. P. Lovecraft.
8:46 – Announced in March of this year, Sandman Universe consists of four ongoing spin-off titles: House of Whispers (inspired by the House of Mysteries and House of Secrets anthologies), a relaunched Books of Magic, a second The Dreaming series, and a revivified Lucifer. The first issues land on August 8.
10:00 – 2013's Wolverine Season One (penned by Ben Blacker and his frequent collaborator Ben Acker, with art by Salvador Espin) retold the character's history with the Weapon X project and his early battles against the Incredible Hulk. We're not supposed to talk about X-Men comics here on Vertiguys, but we liked it a lot.
11:03 – Eric's referring to DC's Young Animal imprint, an experimental – albeit still superhero-driven –imprint overseen by writer (and My Chemical Romance vocalist) Gerard Way. Sadly, the line is slated to end in August.
11:14 – As we've mentioned before, DC editor Karen Berger was a key figure in the launch of mature-audiences titles like Hellblazer and Sandman and Executive Editor of Vertigo from its inception in 1993 until she stepped down in 2013. The initial slate of darkly mystical pre-Vertigo titles under her wing have been referred to as the "Bergerverse."
14:18 – Mind you, it's just a drawring of a wolf.
15:49 – It may bear mentioning that Joanna's referring to a line from later in this very comic.
16:07 – That's a reference to Training Day.
18:36 – We touched on this device back in our review of Sandman #30 (the Augustus Caesar issue).
20:53 – But don't take my word for it!
22:01 – Buffering the Vampire Slayer can be found here. The relevant discussion pertains to season 2, episode 13, "Surprise."
25:03 – The word "gewgaw" dates back in English at least to the early 13th century. Its origin is unknown, but it's definitely not a recent gift from Russian, Yiddish or Hebrew.
27:11 – He could claim to be a cowboy, but he's really just a gadjo.
28:38 – Joanna might have just referenced cult flop The Room.
32:50 – Eric was referencing Star Trek's Mr. Spock, and his dubious claim (when trapped on 1930s Earth in "The City on the Edge of Forever") that his pointy Vulcan ears resulted from a childhood accident involving a rice-picking machine.
34:34 – That was a reference to Batman Begins.
45:23 – At the end of William Shakespeare's Love's Labour's Lost, the leading lady suddenly learns that her father has died and departs with her ladies-in-waiting, sundering all but one of the romances that had developed over the course of the play. In Francis Meres' 1598 critical work Palladis Tamia, Wits Treasury, Meres lists Love's Labour's Won as one of Shakespeare's "most excellent" works. No copies of a play by that name survive, though it isn't necessarily a sequel. It might be an unrelated lost play or an early name for another known comedy.
49:32 – Some people are probably interested in details. I'm not.
53:14 – I'm referring to this move: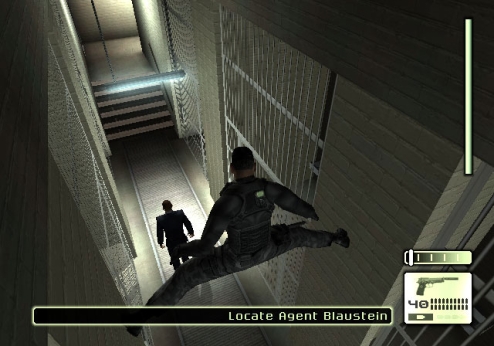 55:05 – Making his first appearance in 1967's Strange Adventures #205, written by Arnold Drake and drawn by Carmine Infantino, Deadman is the ghost of Boston Brand, a trapeze performer (hence the colorful costume) who was murdered by a contract killer. He was given the power to possess living bodies by a (made-up) Hindu god so that he could seek justice for his own murder. He hasn't consistently had his own series, but he pops up often enough as a guest star alongside other DC heroes, most notably Batman.
This issue's penciler, John Watkiss, worked on Deadman volume 4 in 2006 and 2007. Written by Bruce Jones, this short-lived series was part of a deal where mainstream DC traded characters to Vertigo. In exchange for a mainstream Jonah Hex book, Vertigo got to run a mature-readers Deadman title.
56:17 – Joanna has also argued that the depiction of Morpheus on the cover of the Fables & Reflections trade paperback highly resembles actor Benedict Cumberbatch.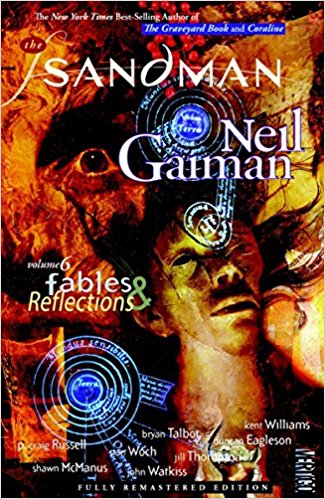 56:43 – The Lord of the Rings: The Return of the King closes with "Into the West," written by Fran Walsh and Howard Shore and performed by Eurythmics singer Annie Lennox. It's lovely.
57:07 – Pure Moods is a series of albums compiling new-age, ambient and smooth-jazz music. Joanna references the song "Return to Innocence," by Enigma, which appears on the first album, as does Enya's "Orinoco Flow."
58:38 – Since Marco Polo is namesake to a children's game of stumbling around with one's eyes closed, it may be useful to note that the famed explorer was never actually blind, and certainly isn't as a young man here.
58:58 – We're referencing Star Wars Episode II: Attack of the Clones. The "potato monster" Joanna mentions is called a shaak. For more delightful nuggets from Wookieepedia, check out What's Lightsabers, Precious!
59:18 – My spherical cow joke is a reference to this Darths & Droids strip, which is in turn referencing spherical cows.
1:00:10 – Joanna is referencing "Mr. Sandman," a 1954 song written by Paul Ballard and most famously recorded by The Chordettes. We previously encountered this track in Sandman #3, where it served as a signal to John Constantine that Morpheus was looking for him.
1:02:08 – The Travels of Marco Polo is often known colloquially as Il Milione, apparently for the millions of tales contained within.
1:04:53 – We met Fiddler's Green back in The Doll's House, when he was wandering the Earth in a human form under the name Gilbert. He's a place, a mythical sailor's paradise, although as part of the Dreaming, he's also a dream, and therefore a living thing.
1:10:21 – Branston Pickle is a sweet chutney of pickled vegetables, and a key ingredient in a traditional cheese and pickle sandwich. It's one of the UK's famous love-it-or-hate-it foods.
1:14:18 – Eric's referring to the Great Pacific Garbage Patch.
1:15:44 – We didn't talk about the implication that Dream and his lady love are so unbearable in their happiness that the location of their romantic interludes got annoyed and walked away.
1:19:00 – On the other hand, this issue touches on yet another purpose or function of stories: to share places and experiences unknown to the listener. Exploration, Gaiman argues, is a form of storytelling – or is useless without a good storyteller.
1:23:22 – Gaiman posted a few photos revealing the physical setup for the early covers here.
1:25:03 – The story of Morpheus' son, and how their relationship went to hell, can be found in Sandman Special #1, The Song of Orpheus.
1:26:40 – A Modest Proposal is a 1729 essay by Jonathan Swift, in which he suggests – sarcastically, and by way of calling out the existing inhumanity toward the poor and the Irish – that they alleviate their poverty by selling their children for the dinner tables of the rich and the English. By the way, "Babycakes" first appeared in 1990's Taboo #4, with illustrations by Michael Zulli.
1:31:38 – Fone Bone is the everyman protagonist of Jeff Smith's essential 90s fantasy comic Bone. Fone and his two brothers are the only characters drawn in a simplified, cartoonish style (inspired by Walt Kelly's Pogo), while everyone around them looks much more detailed and realistic.
1:33:55 – Eve was the host of DC's Secrets of Sinister House and later of Weird Mystery Tales.
1:36:35 – In The Name of the Wind, protagonist Kvothe thinks at one point, "Everyone knows one story. Everyone knows at least one."
1:36:56 – This is the reference I was making.
1:42:26 – I didn't just make it up! Whew.
1:42:57 – Further penis bone reading here.
1:43:05 – I'm conflating trees here. As Gaiman's narration makes clear, the tree of life is not the tree of the knowledge of good and evil, which Adam and Eve eat from at the urging of the snake.
1:47:33 – I'm referring to a moment in Charles Dickens' Great Expectations, where the protagonist, Pip, is awakened from a feverish sleep by a strange man in his apartment who says, "You had better come to my house." The man is an officer charged with taking Pip to debtor's prison.
1:50:31 – That's a reference to The Dark Knight Rises.
Podcast: Play in new window | Download
Subscribe: RSS